Viez in Saarschleifenland
Der Viez ist ein herbes, frisches Getränk, gegoren aus den kleinwüchsigen Äpfeln der Streuobstwiesen.
Apple wine, or Viez as it is called here, is a dry, refreshing beverage fermented from the dwarf apples growing in meadow orchards.
Viez derives its name from its former meaning as the most important alcoholic beverage of the rural population of Saargau. These people drank the apple wine "vice vinum", i.e. instead of expensive wine made from grapes, and they mostly produced it themselves.
Viez is traditionally fully fermented with an alcohol content of around 5 to 7 percent.
It is drunk neat or mixed with sparkling water.
In addition to the dry, basic product, which is ideal as a refreshing summer drink, many producers now also offer a wide variety of high-quality Viez specialities. The range extends from a sparkling apple secco to single-origin Viez through to the more exquisite sweet varieties produced after the fruit has been exposed to frost.
The regional beverage can be used in many different ways in the kitchen and forms the basis of many regional recipes.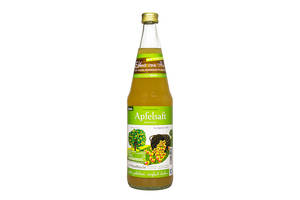 Losheim am See
Phone +49 6872 2366

Alles rund um's flüssige Obst: Apfelsaft in Spitzenqualität, Apfelwein von heimischen Streuobstwiesen, vitaminreiche Mehrfruchtsaftgetränke, spritzige Apfelsaftschorle, veredelte Liköre, vollmundig...
Details